An Aggie Creamery Icicle tricycle is parked outside the Aggie Creamery on Tuesday as Utah State University celebrates Aggie Ice Cream Day. (Ryan Lorensen)
Estimated reading time: 4-5 minutes
Editor's note: This article is part of a series reviewing the history of Utah and the United States for the history section of KSL.com.
LOGAN – Ken White can identify one thing that unites everyone who has attended Utah State University over the past century.
No, it's not True Aggie Night. It's Aggie Ice Cream, a college program and brand that's still making delicious frozen desserts after 100 years.
"Anyone who has been to the state of Utah knows what Aggie ice cream is, how it tastes, and more importantly, what it means," said White, dean of the College of Agriculture and Applied Sciences. of the USU. "It's kind of a legacy. It's a legacy that our alumni associate strongly with this campus."
That includes Utah Governor Spencer Cox, a USU alumnus, who signed a proclamation in February that designated Tuesday as Aggie Ice Cream Day as part of a year-long celebration of the centennial of the brand. Cache County Executive David Zook issued a countywide proclamation on Tuesday naming Aggie Ice Cream the official ice cream of the county.
"What a perfect day to celebrate ice cream – the first day of summer," Zook said. "It's ice cream season now."
The origin of Aggie Ice Cream
While this year marks 100 years of Aggie Ice Cream, the journey to the brand actually began decades before it was established with other forms of dairy. It started with the Aggie Creamery, which was established along with the university itself in 1888, offering courses in cheese and butter production, according to a history of the university's dairy compiled by the professor of USU Donald McMahon.
In 1920, as the then Utah Agricultural College was being transformed into an institution after most of its facilities had been used to support United States involvement in the Great War, the university purchased new machinery which opened the door to large scale production of cheese and butter – and opened the door to the birth of Aggie Ice Cream.
The following year, the school hired Professor Gustav Wilster, who immediately brought the idea of ​​ice cream with him. In the summer of 1922, his class whipped up milk, cheese and ice cream that helped feed about 2,500 people, according to the university.
Aggie Ice Cream was born. The original ice cream flavors at the time were chocolate, pineapple, raspberry and vanilla, McMahon notes. The program went on to help influence students who opened their own ice cream businesses, such as Casper's, Farr's and Snelgrove.
Another of Wilster's students, AJ Morris, returned to USU in the 1930s to operate Aggie Ice Cream after Wilster had taken a similar position at Oregon State University. By the end of the decade, Morris had helped add 10 more flavors, including boysenberry, cantaloupe, maple nut, orange, and strawberry.
The Aggie Ice Cream store was eventually established on the north side of the Quad in the 1940s, where it quickly became a campus staple.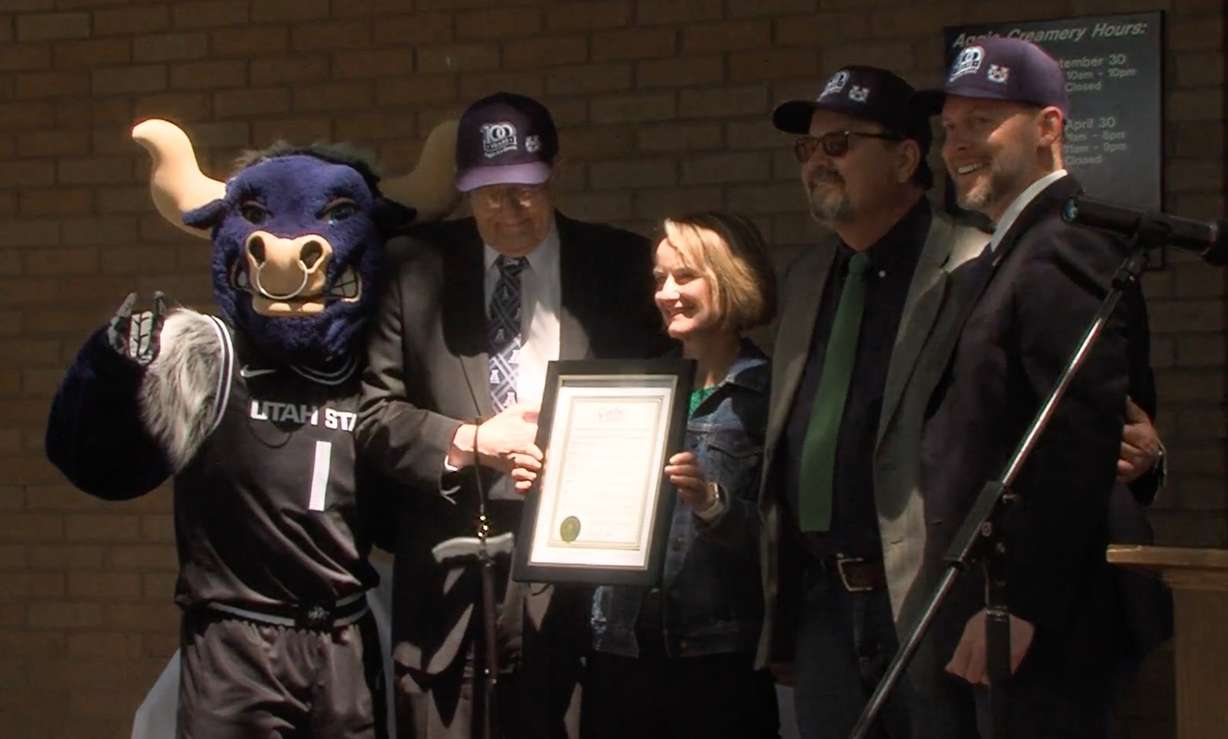 While operations have grown over the past century, White says the foundation of Aggie Ice Cream really hasn't changed at all since the first summer, other than adding and removing flavors. All production, from feeding cattle to turning milk into ice cream, is still managed by students and professors.
The university notes that more than 50,000 gallons of ice cream are made each year, which isn't just gobbled up by USU students and alumni.
(T)there are people who aren't even alumni or graduates, who will stop here on their way to Bear Lake or Yellowstone so they can participate and enjoy this all-important treat," White said.
Celebrate a century
Aggie Ice Cream's centennial celebrations actually began in January, when Aggie Ice Cream announced that it would be releasing three new flavors and bringing back three "legacy" flavors and highlighting six of its existing flavors. The university has also started offering discounts and prizes.
This continued on Tuesday when customers received $1 off, or 100 cents, off all of their single scoop cone orders, while customers also received prizes. They also got to see baby animals and learn about Aggie Ice Cream's origin story.
Those who have missed the celebrations so far still have plenty of time to celebrate the big anniversary, White said. For example, he said he was excited about the launch of a new banana ice cream with coconut and Brazil nuts called "Monkey Business" which will be released in July just for the year of celebration. . Future gifts are also planned for the second semester.
"We think it's very important that we've been making ice cream for 100 years," he said. "To be able to (operate all the components of the manufacturing) for 100 years is, I think, a really impressive achievement."
Contributor: Ryan Lorensen
×
Related stories
Utah Higher Education's Latest Stories
More stories that might interest you